The temple of national treasure mitokusan sanbutsu-ji nageire-dou is built on the rapid cliff.
The chief priest and the mountaineer are often climbed in a straw sandals.I can usually borrow straw sandals in sanbutsu-ji.But you edit straw by oneself with much effort, and do you not arrange a straw sandals only for oneself?
I make a straw sandals in the morning in this course and can climb a mountain in the straw sandals which I made with oneself from the afternoon.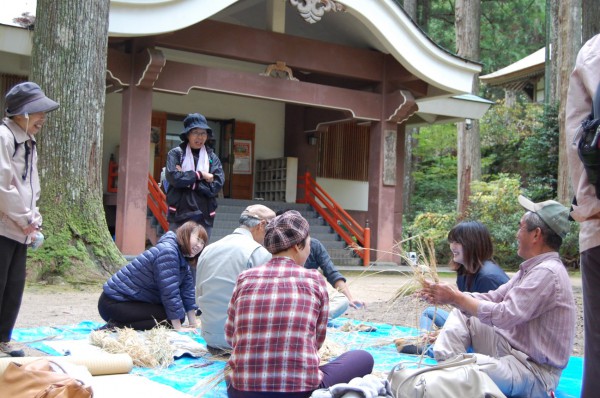 A national treasure injection temple of mitokusan sanbutsu-ji is the building which, besides, is unique.
Nageire-dou which was built in the hollow of the precipice,There is the legend that a person with mysterious power throws it by the dharmatic power in old days and had.
There is the place to climb along a narrow way and chain to look at the nageire-dou.
Therefore it is said to be the most difficult in Japan to look at the national treasure.
It is recommended that I climb it in a straw sandals.
At first I knit a straw sandals in the morning.
A teacher is everybody living in local Misasa-cho. I will knit a straw sandals while hearing a local story.
Let's climb it in the straw sandals which we knit by oneself in the afternoon towards national treasure mitokusan sanbutsuji nageire-dou.
※ The guide is not assigned to mountain climbing.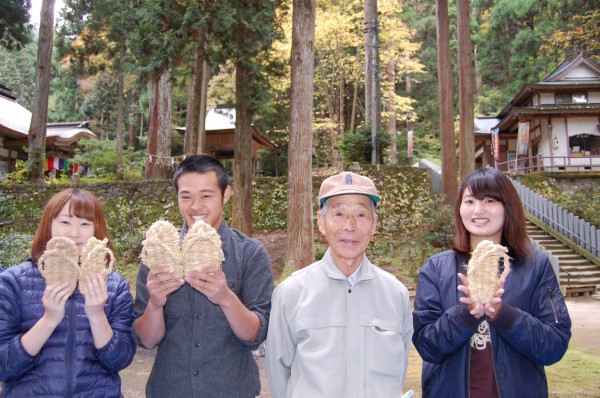 time schedule
Straw sandals knitting lecture 9:30~12:00
↓
(Each person lunch)※ The lunch preparations for vegetarian cooking are possible with an option, too.
↓
Mitoku-san mountain climbing 13:00~15:30
maximum
5persons
minimum
2persons
tour price
6,000yen(include tax)per person.
&lunch 7,000yen(include tax)per person.
Included in the price
・Straw sandals knitting material cost
・Straw sandals knitting experience charges
・Admission fee to a temple
・Insurance
・include tax
pay
cash
reserve
reservation possible until 3days at 3pm before deppartur.